Welcome to Top 5 Wednesday! T5W is hosted over at Goodreads-if you would like to do this yourself, go ahead and follow the link to the group (:
Hello guys, welcome back to Top 5 Wednesday with your host Ginger! 😛 This week I'm actually posting on Wednesday instead of scheduling because yesterday was Valentine's Day and I was pretty worn out!
So without further ado, let's get into some favorites of mine that may not be all about the words~
1.) The Twilight Graphic Novels
When I stumbled across these I just had. to. pick. them. up. The art is freaking gorgeous, it makes you see Bella and Edward in a whole new light. In fact, it makes the books themselves even more enjoyable because you see the characters like these super amazingly drawn anime like people instead of Kristen and Rob (meh). I have both of the volumes on my shelves and really, if you don't like Twilight I think you'd actually really enjoy the Graphic Novels if not just for the art.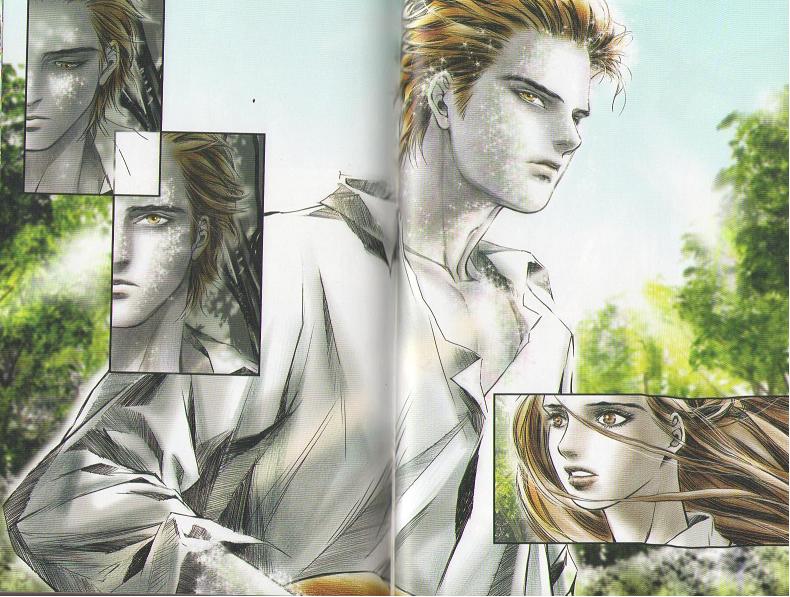 2.) Maximum Ride
I have never and will never be able to read the Maximum Ride books simply because the Manga is so so so soooo much better. And it's the exact same script, so when I went to try and read the actual book I had to put it down within seconds because it just didn't feel right. I love James Patterson, and of course the characters in this series are unique and fun but I think the manga just doubles or triples the story because again, the art is so good. That's the artist coming out in me, teehee.
3.) Miki Falls
Mark Crilley is a great artist and I actually stumbled upon him on Youtube. It is here where I even discovered his mangas. The one I really wanted to read was Brody's Ghost, it has a more relatable style, but I picked up Miki Falls instead and I found I actually enjoyed it, despite my lack of liking for the art style (But it's still good, don't get me wrong.) I've yet to finish on with the series because I haven't bought them for my shelves, but I'm super excited to continue!!
4.) Any Manga really
My list of manga's I want to read is ridiculous. But I have to say I can almost guarantee they will all be good since the anime's go along the story. So with that said, I recommend and can't wait to have: Fullmetal Alchemist, Hunter X Hunter, Deathnote, Hellsing, Bleach, Fairy Tail…do I need to go on? ❤
5.) Bone
Ah yes, Bone. This is what started it all. In grade school EVERYONE wanted to read this series (probably because of the pictures, duh). I think what is so captivating about this story is the sheer uniqueness of it. It is like nothing I've ever read and I'm so glad that it was my introduction into graphic novels and the likes. It will always be a favorite on my list!
So there you have it! What are some of your favorite non-written novels? Do you agree with my list? I'd love to hear!